And here it is, my very first weekly roundup! A collection of the most interesting things I've come across this week.
The internet can be a wonderful and enriching tool, a gateway to amazing information, and a way to connect with people and share ideas to better your life and the lives of others.
The internet can also be a mindless time suck, a productivity void that ensnares you and refuses to let go, or source of negative polluting ideas.
I hope you view this list and The Manly Green as more of the former and less of the latter.
Enjoy!
1. The Doritos Ad You Didn't See Super Bowl Sunday
This ad really cuts to the point: what is the real impact of your food choices?
Not going to lie, I love Doritos. Those damn little cheesy triangles are tasty. I don't know if I've ever purchased them when shopping, but I'm the guy destroying the bag of chips at a party. What can I say? I have good self-control in the grocery store but freely available food at a party is a no holds barred affair. Next time, however, I'm going to think a little differently and stick close to the vegetable tray.
I completely disagree but sadly, the "organic movement" sometimes comes off as classicist or elitist and therein lies the problem. Healthy nutritious food should not be a luxury, it should be a standard. Whether you prescribe to a vegan, vegetarian, paleo, primal, omnivore, or generally conscious diet, you should be eating a certain way because it makes you feel good, provides you with energy and vitality, aligns with how you see and want to see the world. Don't follow a fad. Follow your gut.
I sit way too much. Between the time I spend writing on my laptop, reading research articles, or sitting in class, it feels as if my life is just a series of sitting in different places.
All this sitting is starting to kill my back. To combat the back pain and hopefully not become an old hunched-over man in the future, I've been trying to stand and do my work.
I have a great small kitchen bar table that is the perfect hight for all my work and was something that I already owned.
If you don't own a standing desk, you might be surprised how damn expensive they are.
Personally, I'd look to modify your existing setup and get off your butt.
Did you know that Schwarzenegger, an iconic image of manliness, is taking on climate change with his Regions of Climate Change organization?
Take a look into the story, drive, and passion that produced the Olympian, Terminator, Predator-Hunting, Governator, Arnold Schwarzenegger. Another amazing interview from Tim Ferriss.
Somewhat in juxtaposition to Schwarzenegger: the lumbersexual. This new fashion fad is taking over the U.S. as men try to look manlier. I guess that's what they are going for.
I wear plaid with the sleeves rolled up. I have a beard. I, however, actually have cut down trees with an ax. I can start a fire from nothing but sticks. I've spent many nights sleeping outside under the stars. I'm not a lumberjack. I'm not a lumbersexual. I'm a man. My name is Tyler.
My friend Ben is a big bearded guy that wears almost exclusively plaid. In recognizing that he has now found himself in style out of nowhere he replied, "I guess that's cool. This is just how I dress." This is coming for a guy who spent a great deal of time working out in wilderness areas in California and wants to work for the Forest Service. He too, isn't pretending to be something. Ben is Ben.
"There's something off-putting about appropriating the look of the rural working class of yore while maintaining the soft lifestyle of the city-dwelling hipster."

Read more @ Made Man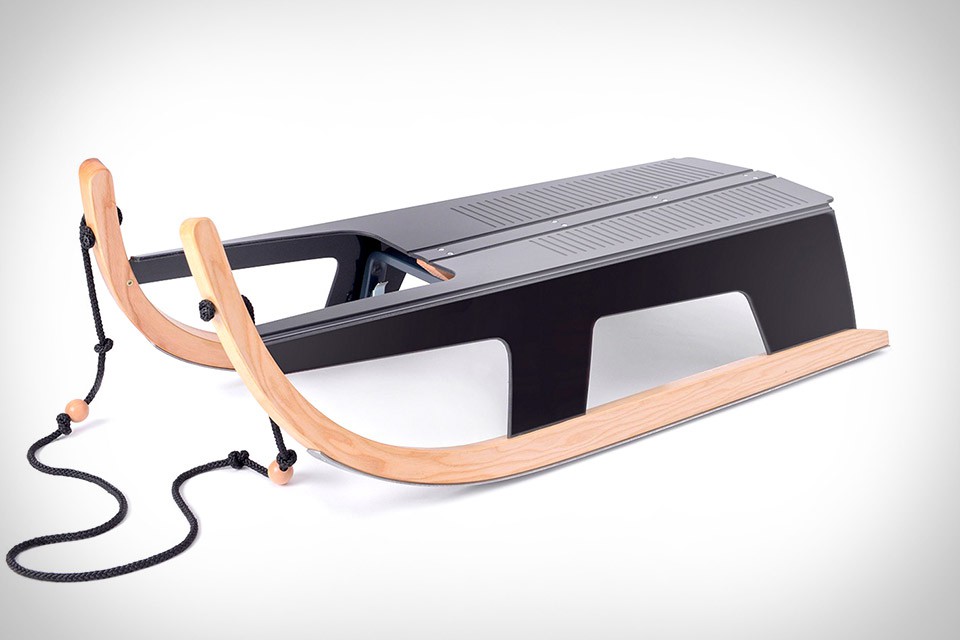 I hate the cold. Give me 100 degrees F any day over the cold. But, I have to admit that there is something pretty about snow. Especially fresh snow.
And furthermore, who doesn't love shooting down a hill on a sled. How many of us have great memories of sliding as a child?
There isn't a reason you should completely stop acting like a child. This folding sled can be tucked away under you bed for most of the year and then provide hours of fun for you and your friends.
Find out more @ Uncrate 
When bracing the cold this winter and while enjoying your folding sled, add a stylish layer with a warm scarf.
Intimidated by wearing a scarf? It may sound silly, but for a lot of men a scarf is a foreign accessory that they have no idea how to make use of.
The Art of Manliness brought back this older article to help fellow men during these trying times.
Get a scarf. Up your style game. Stay warm.
Thank you for visiting The Manly Green. Take a moment to share this post and check out our other articles.