This post is part of the 21 Days to a Manlier Green series
I have always loved building and taking things apart. As a young boy, Legos were always my favorite toy. I'd spend hours building elaborate castles and space stations. My other favorite play-things were the toys I could take apart to learn how they worked: RC car, radios, an old power drill that I didn't put back together correctly and shorted.
Building is part of who we are. Look around you. We built that stuff. Building and creating allows us to express ourselves, to improve our surroundings, and to learn.
When is the last time you created something with your own hands? Today, build something.
Building
I love power tools and wood – *insert Tim Allen's Home Improvement grunt.* I love the chance to use my tools to create something from raw materials.
I have many great memories of my dad teaching me how to use tools and I am grateful for every lesson. I know that if I need to fix something, I have the basic building blocks to figure it out. No need to depend on someone else.
Being able to use tools allows you to construct and fix the world around you. Having basic handyman skills provides you with a sense of freedom and independence.
Now, maybe you've reached your 20's and you have no idea how to use a hammer and the sound of a buzz saw scares you more than making you feel powerful. If you want to, you can change that – and you should.
Life is all about gaining skills necessary for success. Knowing how to build things helps develop your problem solving abilities and provides you with a chance to express yourself. Building is art. My favorite types of art are functional pieces. I love well crafted furniture, beautiful architecture, custom-built bikes, and wooden boats.
How do you learn how to build? Learn by doing. Find a project that interests you and is simple enough for you to take on while also challenging you. Here are a few ideas:
4 Project Ideas
A paracord bracelet doesn't require any power tools and maybe isn't what you thought of when you imagined building something, yet this DIY project is a gateway to bigger projects. If you can't cut paracord, weave it into a bracelt, and melt the ends of the cord, I hesitate recommending a project with power tools.
What you will end up with, however, is a functional bracelet that you made yourself. I love paracord and it has helped me out off a jam numerous times.
When you wear this bracelet, you might have someone ask you where you bought your bracelet. Proudly, you can say, "I made it."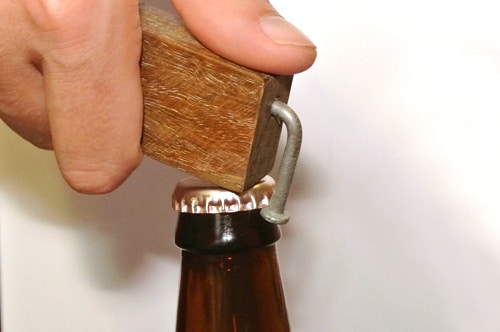 A bottle opener is a wondrous, yet simple tool that allows you to tap into delicious malty beverages. You can, of course, use a simple metal bottle opener. Maybe you have one on your keychain. I do, as I always like to be prepared – for both the good and the bad.
Yet, my worn keychain bottle opener isn't the classiest of tools. However, the Handy Wooden Bottle Opener, originally featured on the Art of Manliness, is a classy beverage opener.
This project will allow you to use some power tools. While the finished product looks pretty simple, you'll have to know or learn a couple of skills to make this Handy Wooden Bottle Opener.
Then, at your next gathering, you can have your new bottle opener at the ready.
If you're going to start amassing a collection of trusted tools, you'll want a workspace where everything is neatly organized and within reach. I always loved being out in my parents' garage, at my father's workbench – he probably didn't enjoy it as much as I did, since I usually left everything a mess.
One day, once I stop moving around so much, I hope to have my own garage and workspace. My personal man cave, a fortress of solitude, where I can tinker away.
These 6 DIY Workbenches are the perfect fit for your new workspace. What better way to start you journey as a budding craftsman or handyman than building your own workbench?
Splitting a growler of beer with a couple of friends is a great way to spend an afternoon. Using a growler saves waste and will usually mean that you're purchasing a local brew, which helps your community and provides you a chance to learn about the ingredients, process, and work that went into your adult beverage (I hope you're not picking up a growler of PBR).
A growler crate can be placed on the floor of your car to keep your beer from rolling about as you drive back home (no, it's not a cup holder for drinking while you drive!). Or, if you bike everywhere like I do, a growler crate can fit nicely into a bike rack.
For this project, I don't have a link to a set of DIY instructions. You can check out what a growler crate looks like (here) and then deconstruct how to build your own. Once you've built up your craftsmen skills, you'll start seeing a ton of great ideas that you can recreate yourself.
Be a Builder
I like to think of myself as a builder. Not only do I enjoy creating with my own two hands, I'm working to build a life and lifestyle that I love.
"I'm always thinking about creating. My future starts when I wake up every morning… Every day I find something creative to do with my life." – Miles Davis
What are you trying to create with your life?
What have you built lately? Have any good DIY project links? Post them below!